Drawing Accessories

Layers and Styles for Organizing
Create unlimited Layers and Styles for your drawing. Change name color patterns. Easily add, delete and arrange Layers with Parent and Child structures in a Treeview Toolbar. Visible, Freeze, and Off. See image at right.
Easily Edit and View Objects
Edit Object properties such as Layer, Style, and Geometry using the Object Data Grid (ODG).
Create complex groups of Figures with Parent Child Relationships. Easily Drag and Drop Figures in the Treeview while editing in the ODG or drawing. See image at right.
Drag and Drop from Object Libraries
Over Sixty Library drawings included with Cadrail give you thousands of Objects to work with. You can Drag and Drop Objects from the Tool Bar into your drawing. Combine with other drawing tools and objects.
Open multiple drawings and Drag and Drop Objects between drawings.
Easily make your own Libraries. Libraries are just normal Cadrail drawings that you can edit.
Auto-Find shows you the Action before you Click
Auto-find is a great feature that Highlights the object the mouse pointer is over as you move the mouse. Click the mouse when an object is Highlighted to select. Auto-Find greatly improves operation of the CAD tools. Furthermore, only valid objects related to the selected tool are highlighted.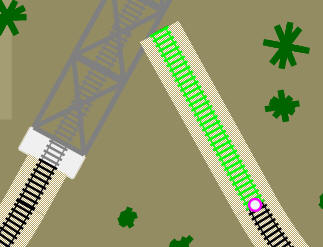 Smart Toolbars
The new RMB (right mouse button) Popup Toolbar gives you the most used tools and the tool buttons shown are targeted for your need based on the tools and objects selected when you click for the toolbar. You can also edit object properties directly on the toolbar using an Object Data Grid.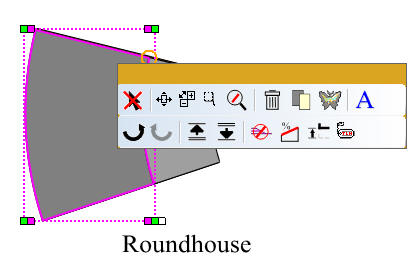 RMB Popup Toolbar
Terrain
Make majestic Scenery using the Terrain tools. Assign elevations to Terrain grids or Automatically add Terrain Embankments below Track Objects.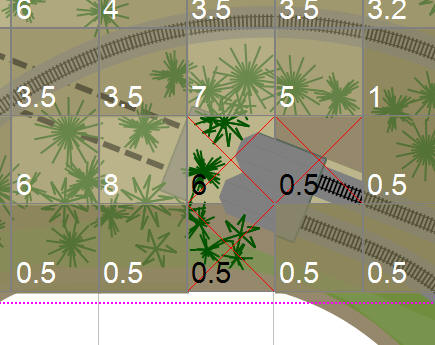 Figure Terrain Grid

Trees
Easily add Cadrail's Tree Symbols to your drawing Plan View and they are automatically adjusted to fit the Terrain elevations in 3d. Trees automatically fit to Terrain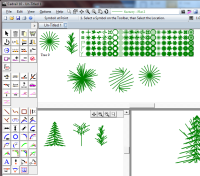 Creating Tree Symbols
Picture Tools
Cadrail has extensive tools that allow you to add and work with Picture Images in your drawing. Its full featured Desktop Publishing.
Rotate, Flip and Size Pictures.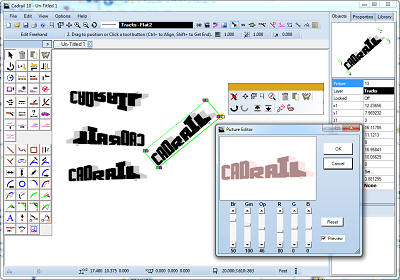 Picture Paint lets you set properties like Opacity, Brightness, Alpha, Color.