Version 10.0.0 New features:
New Picture object:
Cadrail now lets you incorporate images in your drawing in many different ways. You can insert a new Picture Object with an image you select from your own collection. The picture can be sized, rotated, copied, just like any CAD object.

Several new features let your capture your drawing as a bitmap image to allow exporting to other paint software or to use as a picture in Cadrail. You can capture any area you select in the plan view and save it to the windows clipboard or save as a file. You can specify
your desired final size. You can copy and paste from other software to your Cadrail drawing.

You can add an image to a Figure group to create backgrounds, building textures, scenery, and many others.
The Picture object has all properties and tools similar to the other Cadrail objects (lines, arcs, etc.)
To create a Picture, click the Insert Picture button located on the Top Tools Label toolbar. Cadrail will insert the Picture at the center of the current view. Replace an existing picture with another using the Object Editor
Option for Transparency
The Picture Object has replaced the File – Trace feature of earlier Cadrail versions.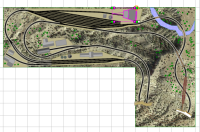 Photo Background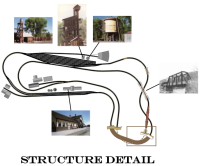 Photo Details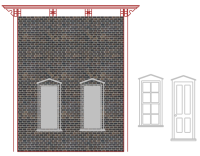 Photo Textures
New Drawing Toolbar:
Specify the button size and toolbar layout. Use the Toolbar Options dialog by clicking the Options button in the upper right of the toolbar.
Move Drawing toolbar to the mouse location using ctrl + RMB. After a tool is selected the toolbar returns to home
All tools are now visible making it easier to select a tool. Several tools have been combined into one.
Ctrl+RMB moves drawing tool bar to click point.
New item on RMB popup menu to move drawing tool bar to click point
New button appears upper left when Drawing Toolbar is moved.. Button returns Drawing Toolbar to upper left home.
New shortcut key Ctrl+X returns Drawing Toolbar to upper left home.
New Auto Find: objects are highlighted when the mouse pointer passes over. Activate with on/off button (Labels toolbar). This feature makes it much easier to select objects in the drawing.
New Auto-Select: creation tools will highlight the new object in freehand edit mode when auto select is on (Labels toolbar). Use the tool as you normally would and when complete the object will be highlighted in Freehand edit mode where you can move and drag the new object or you can continue to use the selected drawing tool.
New Auto- Update: When you start Cadrail it will now check for new updates from Sandia's web site. You can disable this feature using menu item OPTIONS - PREFERENCES. On the Preferences dialog select the PROGRAM SETUP tab and un-check the item CHECK FOR UPDATES ON STARTUP. You can also check for updates manually using the menu item OPTIONS - CHECK FOR UPDATES.
New Layers and Styles:

new support for child (sub) layers.
new layer tree view with drag and drop, double click for editor.
new properties tab on Drawing Manager with layers and styles.

New Figures: fill a closed Figure with a Picture

-similar to the Picture object however the Figure outline clips the image.
-specify in Object Editor-fill figure options dropdown list.
-transparent color option.
New Figures: 3d Terrain Grid fills a Figure with terrain in the 3d view.
Select 3d Terrain Grid on the Figure Object Editor.
Use the Terrain toolbar to set color and elevations for the grid squares.
New Copy Picture/Text to/from Windows Clipboard:
This is different from Copy to Clipboard which is the Cadrail Vector objects like lines, arcs, spirals etc that can only be pasted back into Cadrail, not another application.
Edit Menu - Copy to Windows Clipboard (Ctrl+K) copies picture or text object to Windows Clipboard to be used by other programs.
Edit Menu - Paste (Ctrl+V) pastes Cadrail Vector object or Windows Clipboard Picture/Text into the drawing.
New Picture Object Viewer:
Alt+ Right Mouse Button Click shows picture clicked on in a Viewer window.
Right Mouse Button Click Popup Menu Select Picture Viewer item (Ctr+G).
New Save as Windows Metafile
Great way to transfer drawing to other applications like MS Word etc. The metafile is a vector format that allows resizing with no loss of resolution.
Optional file type when using Save Picture in Fence.
New 3d View Save as Picture and Print View:
Accessed with buttons on 3d view toolbar.
When saving a picture the picture will be the size of the form window when saved. The form window will be fit to the page therefore the form window should be as large as possible to maximize print quality.
New Tools (Drawing Toolbar):
New Arc From 3 Points tool.
Save Picture In Fence:

Drag a fence around drawing area to save to picture to clipboard or file.
Specify gif, jpg, bmp, png, tiff, wmf format.
By default the picture will be the size selected from the drawing area. If you want to specify the width, check the Enter Picture Width checkbox and enter the width in pixels. This allows pictures up to 4000 pixels to be created of the selected area.
Replaces menu File - Export - as Bitmap.
Improved tools:
Arc Fillet- press Alt key for reversed arc (concave ice-cream cone shaped).
Spiral Fillet- press Alt key for reversed spirals (concave ice-cream cone shaped).
Dimensions option for Decimal or Fraction display on Preferences - Program Setup tab.
Edit Layers and Edit Style dialog boxes are now resizable to allow a larger view of the lists.
Data between Points (Info) tool gives free hand points, or distance between objects.
All Edit tools now dual use when appropriate and located at the top of drawing tool bar
Arc between lines, line/arc, arc/arc tools have been combined into one tool - ARC FILLET based on objects selected.
Line Rectangle/Line Multiple - alt+ to make figure, ctrl+ for elevation.
Line between points tool eliminated - use Line with shift+.
Line Project tool eliminated. Instead use the Line Tangent.
Point on line, point on arc combined into on one tool POINT ON LINE or ARC based on object selected.
Elevate and Popup tools now use a single object or a figure (was Figure only).
Figure Add tool combined with Figure Create.
Figure Polyline - combined with Line -Multiple use alt+ Line Multiple to create a Figure and ctrl+ to enter elevation.
-Object/Figure editor:

Fill child figures checkbox adds fill to all the child figures in a parent.
Merge Child Figures button (upper left of dialog) creates a single parent Figure.
Improved: Turnout, yard, shape builder combined into one Shape Builder dialog found on Options menu and labels tool bar. Behavior changed where you no longer click an object with the tool. Object is inserted in the drawing center.
Improved: AutoTrim, AutoAlign, AutoSelect: check state saved with Cadrail program settings.
Improved: Units label on bottom tool bar: click for preferences dialog which allows units to be changed