This layout and drawing demonstrate use of Cadrail 10's new Terrain Grids feature. The new tools make it easy to specify elevations by clicking a grid square.

The drawing has Runrail all setup and running just turn it on and then go to the 3d view for a fun in the cab ride.

Download CO 27 2a.exe (2.8 mb)

These files require Cadrail Version 10 or the Cadrail 10 Demo to view and print.

How to use these self-extracting files

Note: this is a complex drawing with lots of detail. The time needed to draw is dependant on the speed of your computer. These large files, take longer to draw on the screen.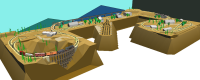 3D View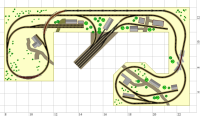 Plan View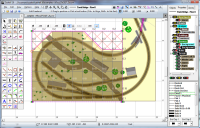 Terrain Grids